The Market
The cloud market has grown exponentially in recent years with an estimated value of up to $ 500 billion and growing. It has largely been dominated by the three main providers: AWS, Azure and GCP. AWS remains the dominant player in the industry with a market share of over 33% and revenues nationally of over $ 80 billion in 2022.
NRG has long-supported organizations in the identification and acquisition of the top talent in the AWS Ecosystem. With continued investment into their Hosting Capability, the value of Amazon's service offering will remain apparent to more SMEs alongside the enviable current client base of enterprise-scale organizations. We confidently predict continued robust growth for Amazon Cloud and have positioned ourselves accordingly, building an unrivalled network of accredited AWS professionals across our key disciplines of:
Strategy & Leadership

Data Architecture

Security

Sales and Pre-Sales
We believe that as organizations become more data-driven and the need for innovation becomes more crucial across all industries, AWS represents a logical choice due to Amazon's strong capability in Data Analytics, exceptional AI functionality along with ease of scalability compared to its rivals all underpinned by best-in-class Security.
The proliferation of AWS and developing AI and Data Analytics capability represents an exciting opportunity for Technology Consultancies, Systems Integrators and Cloud professionals more broadly. The ability to capitalize is hampered only by significant skills shortages and the ongoing 'war for talent' industry-wide. NRG has been consistently engaging with the best talent in the market to represent the very best AWS Practitioners across our key disciplines.
In the US we have mapped an estimated 70% of accredited AWS practitioners and represent a significant number of Contractors operating on some of the most high-profile projects in the industry. We have made key strategic hires on behalf of the leading global Consultancies and have supported many of the NYSE top 100 in strengthening their Data Analytics and Security capability through talent. Our strategy for FTE hires is to engage those already in position, established and performing, these are the individuals best placed to make an impact.
Our Services
​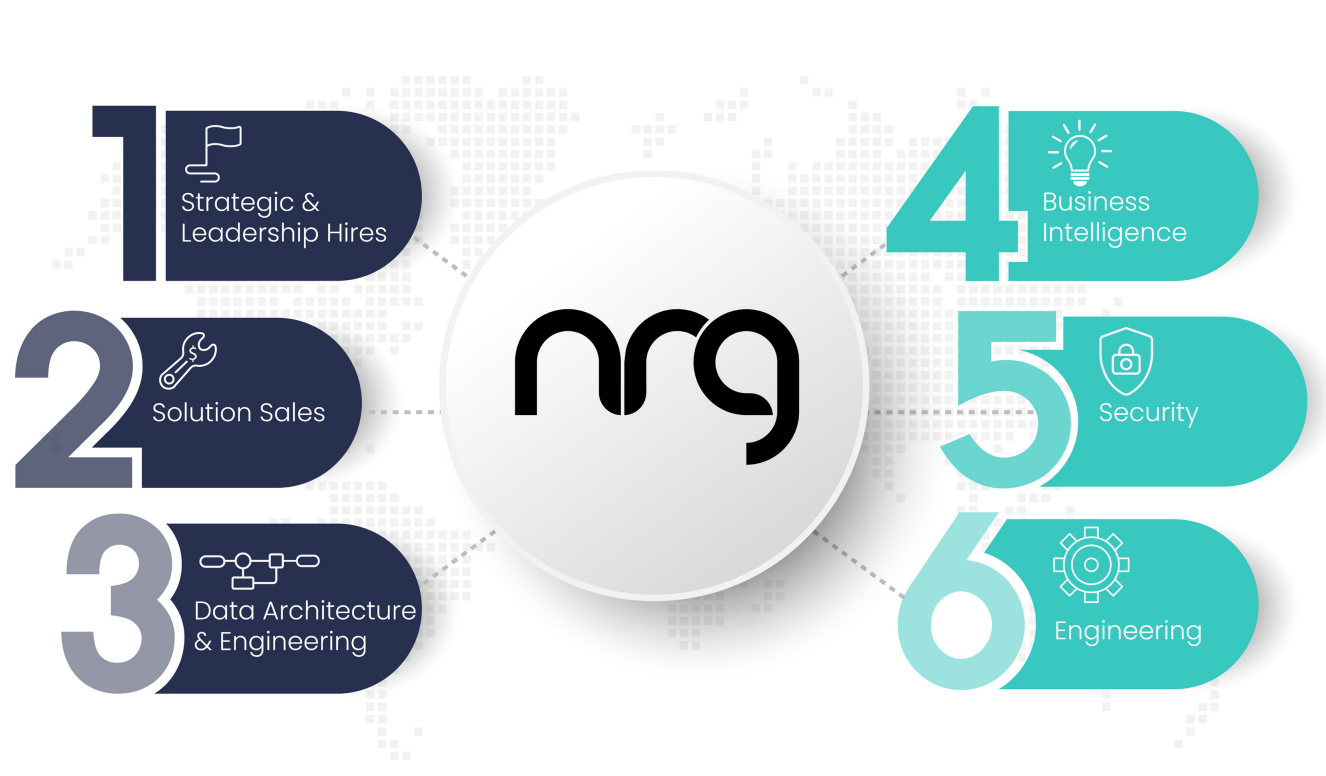 Our Sucess
NRG's recent appointments in the AWS industry demonstrate our commitment to harnessing the potential of cloud computing to streamline processes, drive efficiency, and accelerate innovation across its operations. With this talented team in place, NRG is poised to leverage AWS technologies effectively, capitalize on emerging trends, and deliver sustainable and impactful solutions to meet the evolving needs of the energy industry.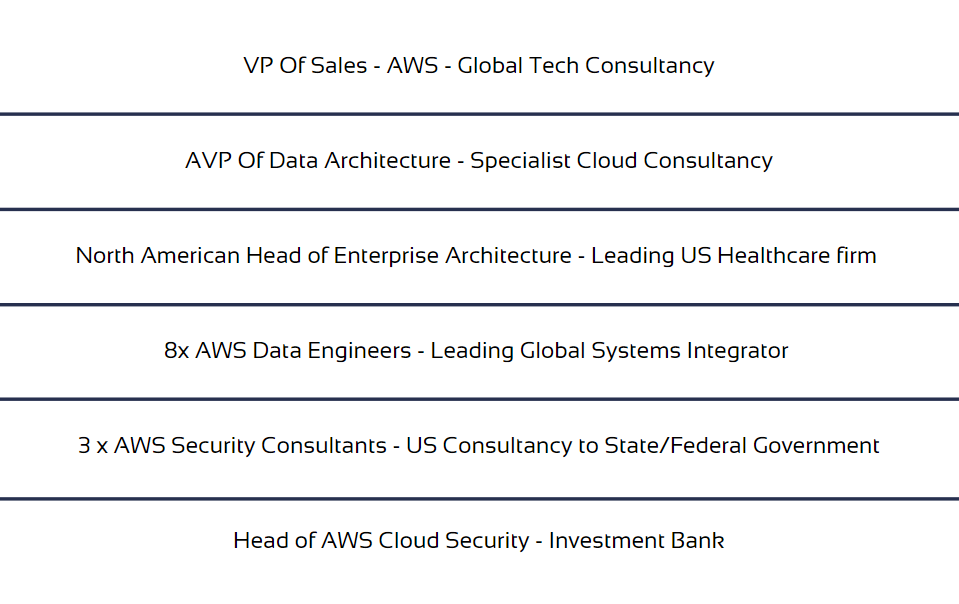 With a deep understanding of the transformative potential of AWS, NRG has carefully selected individuals with exceptional expertise and experience in various areas of AWS to lead key roles.
AWS has established a dominant position in the cloud computing market, holding a significant share of the industry. With over 200 fully-featured services, AWS serves millions of active customers worldwide, including businesses of all sizes, government agencies, and nonprofit organizations. It has a vast global infrastructure, spanning multiple regions and Availability Zones, enabling customers to leverage its scalable computing power, storage solutions, and advanced technologies. AWS continues to experience rapid growth and has played a pivotal role in transforming the way organizations operate and innovate in the digital era.
​
What Our Clients Say
We retained NRG to hire 12x Dev Ops staff with a very quick turnaround to help us deliver a major project to a new client. NRG were extremely responsive and communicative throughout the process – seemingly working all hours to ensure the right people were found, engaged and onboarded. Would certainly recommend their services and professionalism.
-CTO: Independent Systems Integrator
Liam and I had been in touch for around a year when I decided to 'test the waters' with regards to a new opportunity. I think I was a quite demanding candidate as I knew exactly how I wanted my next career move to look. Liam was quickly able to identify three potential moves and within two months had secured me a role with the leading consultancy in our market and made the process easy.
-Head of AWS: Global Tier 2 Tech Consultancy
I was approached by NRG regarding a position with a fast-growing cloud business. I had built a solid career with a big 'corporate' firm and was sceptical at first about moving to an SME. Liam explained the prospect to me in depth and outlined the opportunities for growth – 6 months on my career has gone from strength to strength as I continue to grow our client base and service offering. The support received throughout and even into my new role has been fantastic.
-VP Of Cloud Sales North America: Cloud Consultancy USA
NRG AWS have supported us over the past 18 months with several key hires into our Data Architecture practice. The Data Engineers and Solutions Architects hired have all adjusted well to our business and have delivered the results we expected. In each instance the hiring process has been straightforward and transparent.
-Head Of Data Architecture: Tech Consultancy UK
​
Contact Us
Are you looking to unlock the full potential of your business with the power of AWS? Look no further! Our team of expert recruiters is here to assist you in finding the perfect AWS talent that will elevate your organization to new heights. Whether you need skilled cloud architects, savvy developers, or ingenious data scientists, we've got you covered. Our extensive network and deep understanding of AWS ensure that we'll match you with the right candidates who possess the skills and expertise your projects demand. Don't waste any more time searching for the perfect fit. Fill in the form below and let us help you build a top-notch AWS team that will revolutionize your business and drive unparalleled success. Take the first step towards a brighter future with our specialized AWS recruitment services today!
​